Yesterday's Dutch Idol, today's yarn event...and oh yeah, Elvis.
Marescha was voted off in yesterday's Idols Netherlands, ending up in 8th place. Most of the people who follow Idol outside of Holland were disappointed since she was a favorite outside of the Netherlands. A few wanted her to win. But no one was surprised. Even though she had a perceived good voice, she was constantly in the bottom three. She wasn't one of my favorites, although she was good. My favorite remains Floortje...and the rumor mill has it that she received over 40% of the votes yesterday. Hmmm....is my favorite going to win for once in an Idol competition? (Only had that happen once before...Mike in last year's Indonesian Idol).
Do you want to watch the videos of yesterday's show? Go here.
http://www.rtl.nl/shows/idols3/liveshows/liveshow5/content/liveshow5_videopagina.xml
The site is in Dutch, but just click on each link next to the word "
video
" and you should be able to watch. The first minute of the video is a little explanation in Dutch, so you might want to skip ahead to the actual song. After the song is the judge's comments...of course all in Dutch.
Idols Netherlands (and DSDS...German Idol as well) are different than American Idol and most Idol shows worldwide in which they have the performance show and the results show all on one night. The performance show is early in the evening, then the voting, then the performance show late in the evening (I think close to midnight their time).
Today was the yarn event at Michaels. I went strictly to watch the quickest crocheter competition..and was roped into competing. I totally suck when it comes to speed crocheting...and it showed today. The winner crocheted 44 double crochet stitches in three minutes..and I could only handle half of that...22 stinkin' stitches. Oh well...I'm comforted in the fact that since I only crochet half as fast as the fastest crocheter, I only spend half as much in my hobby. Somehow, that' not much of a comfort.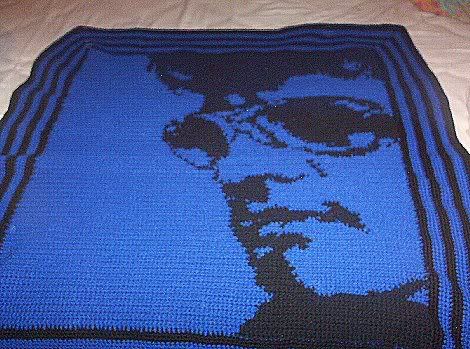 Finally got a couple of my big projects completed this weekend. (Funny how I finished both projects in the same weekend. The first is my Elvis afghan, I made as a family Christmas present. That took over a month to make...All done in blue and black..100 stitches by 128 rows, then an additional 21 rows all around to make it afghan length. But I think it turned out well. :) Everybody that's seen it thus far seem to have liked it. :)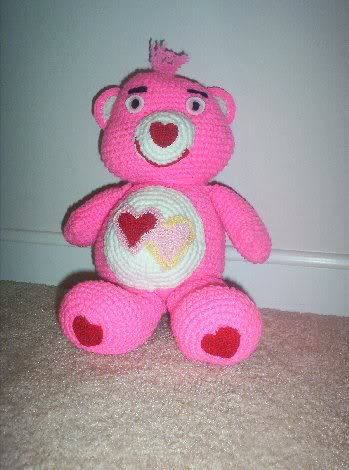 The second is a Care Bear for my goddaughter's baby daughter. The baby was due yesterday, but Katie was two weeks late, so I'm not expecting her until late this week...at the earliest. This was a pain to crochet. The head, body, legs and arms weren't bad...but the features (the hearts) were done in thread with a steel hoook. Now I know why I don't do doilies. :P